The Light, the Thunder, and the Rain. But mostly the Light. A Pilgrim's Odyssey is your daily dose of hope navigating family, faith, and living free. Silouan Green, The Pilgrim's Odyssey host, began to find his own answers after a tragic jet crash on an epic 23-month, over 20,000 mile motorcycle trip. Since then, he has taught thousands to take positive action in facing the trials and traumas of life. Life is complicated. Where are you going?
Episodes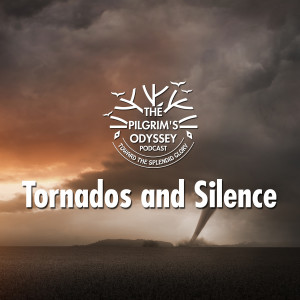 Tuesday Dec 14, 2021
Tuesday Dec 14, 2021
The tornados that swept through the center of country have left at least 88 dead, over 15,000 structures destroyed or severely damaged, and current estimates on the cost are almost $4 Billion. There was a warning, but in that moment, nowhere to run.
The silent stillness that often come before a storm can make your skin pop as the barometer changes and the storm clouds begin to invade. The silence after the destruction, whether there is actually silence or not, cuts deep and clarifies. All is meaningless, all is temporal, life is priceless and so vulnerable.
Our spiritual life often follows a similar pattern. We are numb to the behaviors that destroy us. We are broken and overcome by fear and despair. We are left in an existential stillness that strips our ego naked and forces us to face all that matters – our relationships, our faith, our momentary existence.
My god, my god, why has thou forsaken me?
Silence
My youth is gone, my despair is total.
Silence
And we ask, where do we go from here?
Might I suggest moments like this give us an opportunity to create a life focused on meaning, simplified by fire, and fulfilled by relationship and depth.
Long talks. Long walks. Good books. Good food. An expulsion of excess and a rejection of the temporal.